It is our pleasure to invite you to Umoja's Charity Gala Dinner, an annual event to celebrate the hard work and generosity of our volunteers and supporters.
This year's theme has a touch of luck. Bring your poker face and get ready to join the high rollers at our CASINO ROYALE CHARITY GALA on Saturday 20th July, 2013 at Across the Waves Sports Club in Bundaberg.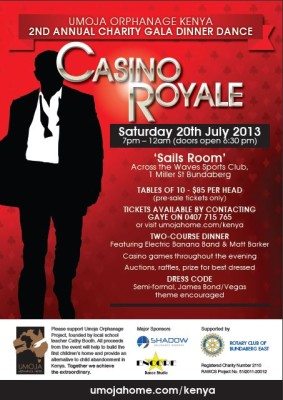 Guests will enjoy a two-course meal and complimentary drink upon arrival. Entertainment will be provided by Matthew Barker (The Bucketseats), Electric Banana, and Encore Dance Studio. There will fun casino games available to play throughout the evening and plenty of chances to win some great prizes in our raffles and auctions. James Bond/ Vegas themed dress in encouraged. Be sure to dress to impress as we will also be awarding a prize for best dressed. All proceeds from this year's event will help fund our first children's home to offer an alternative to child abandonment in Kenya.
CORPORATE SPONSORSHIP
Our Gold Sponsors are Shadow Insurance Brokers and Encore Dance Studio. Silver and Bronze sponsorship packages, which include tickets for a table of 10 guests, are still available. These packages are 100% tax deductible and are a great way to promote your business to the local community. Please consider supporting our event by getting together a table of 10 co-workers and friends for a great night out for charity. E-mail info@umojahome.com for a sponsorship information package.
TICKETS
Tickets are $85 per person. If you purchase a table of 10 ($850), you have the option of being a bronze sponsor and having your business promoted on your table and recognised on our website.
Ticket payment options:
    1. Direct Debit                                                                                                                 
Account Name: Umoja Orphanage Kenya
BSB: 034122   Account no: 634138
Reference: Your surname
    2. Cheque
Payable to Umoja Orphanage Kenya
Post to 133 Barolin Esplanade, Coral Cove QLD 4670
Please e-mail gaye@umojahome.com to confirm payment of tickets or to make specific table bookings.
Tickets can be picked up from the door on the night or dropped off at your place of business. For more information, please contact our treasuruer Gaye Limpus on 0407 715 765.
If you have been shaken but not stirred enough to attend, perhaps you would like to make a donation to our Raise the Roof Appeal at http://umojahome.com/kenya/donate
We look forward to seeing you there!