Our Kenyan staff are the backbone of our project in Kenya, whilst Cathy works full time in Australia as a teacher, and spends up to 50 hours a week on top, doing Umoja planning, organisation and fundraising Cathy returns to Kenya 2 times a year for 4 – 5 weeks, and it is our Kenyan staff who run the project on the ground and take care of our children. They do an amazing job which we are very proud of.
Meet some of our staff and please consider sponsoring them.
Patrick is the Kenyan Project Manager at the Umoja Children's Village, overseeing all staff and progress on the land in Ukunda. He is not only the driving force behind Umoja in Kenya, but he also runs safaris for volunteers and tourists when they visit Kenya. Patrick has been employed by us for over 5 years. His advice and local knowledge are immeasurable, and his honesty and hard work are a true asset to the Umoja Team. Patrick's knowledge of his country and his continued passion towards the outcomes of the Umoja Children's Village Ukunda are to be admired.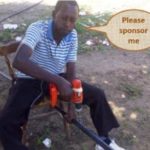 Sustainability Farm Manager Patrick
Patrick is a new member of the Umoja staff and comes to us with eight years' experience in Sustainability Farming Management. He is passionate about sustainable farming and already begun implementing his own strategies to help increase our production while respecting the environment. Patrick sends most of his pay home to his family who live 11 hours away, which allows his children to attend school.
Cathy first met Martin 6 years ago when volunteering at an orphanage where he was working as a kitchen hand. Martin completed his degree in social work and began working at Umoja the same week. Martin is a gently spoken, kind, caring man who has the utmost interest in the welfare of the children. Martin sends part of his wages home to his widowed mother.
Rachael has been involved with the Umoja project from the very beginning, assisting as an interpreter and recorder in our free health clinics and working alongside Australian volunteers. She has a lot of experience caring for children and was very excited to welcome our first group of rehomed children to Umoja. Rachael sends part of her wages home to the village for her widowed mother.
Lozi is a widow who has had a very sad and tragic life that most of us could not even begin to imagine. She has also suffered greatly physically and mentally after being badly burnt, which has added to her daily struggles. Since becoming a primary caregiver for the twins, her life has new meaning and joy. She is extremely grateful for the opportunity to work at the Umoja Children's village. Lozi sends a part of her wage home to assist those who assisted her when she was badly burnt.
Mwanamisi began working with us as a house Aunty when we opened the children's home. Mwanamisi recently lost her husband and had been struggling as a widow trying to feed and take care of her children. She is an extremely hardworking lady and takes care of Umoja's children as if they were her own. She is so grateful to be given employment and a brighter future for herself and her children who are now able to receive an education.
Rama has been working casually for us for about three years, and we have now been able to offer him full time work with the expansion of our farm. He is an elder in our neighbouring village and a very hard-working man. Gardening is Rama's passion. He helped plant the trees around our boundary fence in 2014 and takes extra special care of these growing plants. He is a kind man who always looks out for Mamma Cathy when she is at the project. Ongoing employment with Umoja allows Rama to send his children to school.
Mzera has been a part of the Umoja team for three years. He began as a caretaker for the land, and is now a farmhand, caring for the farm animals, guard dogs, and crops. Mzera speaks little English, but always has a big smile every time you see him. Permanent employment has given Mzera the ability to provide for his family who live several hours away, and his children are now able to receive education.
Michael has been working with us for only a few months. He is young and always wanting to learn new things, and thoroughly enjoys working on our farm. He had a keen interest in raising chickens, so we had him do some training at a chicken farm before our 400 chickens arrived. Michael is very thankful to have a job at the Umoja project so he can send funds back home to his mother and siblings in their village.
Saide has been working with us part time for approximately 2 years. Saide is a young man who is one of our farmhands. Nothing is ever too much trouble for Saide and he tries hard to pick up English words. Saide supports his mother, brothers and sisters as his father died some time back. He works hard on the farm. He loves interacting and working with our volunteers.