Who is the founder of Umoja Orphanage Kenya/Umoja Children's Village – Ukunda?
Umoja was founded on the 31st July 2011 by Australian school teacher Cathy Booth, mother of four and grandmother of three. Cathy has travelled the world extensively and lived in Papua New Guinea for many years, but it was Kenya's children that touched her soul. She returned to volunteer at an orphanage, which changed her life forever, and then committed her life to building a 'children's village' for orphaned and vulnerable children in Kenya's coastal province. Cathy's determination, goal-orientated drive, and can-do attitude have always been her strengths; as is her love and compassion for children. Cathy is progressing the project through a number of stages in order to achieve the extraordinary.
What is Umoja Orphanage Kenya? / Umoja Children's Village – Ukunda
Umoja Orpanage Kenya (incorporated) is the Australian arm (Charity Number CH 2110) registered to raise money to build Umoja Children's Village – Ukunda. Both are a non-profit charitable organisations dedicated to providing quality homing and education to orphaned and vulnerable children in Kenya, Africa. Umoja Children's Village will be made up of six children's home, a small school, training centres, sustainable farming, and volunteer accommodation.
What is Umoja Orphanage Kenya/Umoja Children's Village-Ukunda's Vision?
Together we achieve the extraordinary. Umoja is Swahili for unity and togetherness, so our vision is for two countries–Australia and Africa–to work together to complete our mission, and any other countries who want to assist to achieve the extraordinary. We are creating an African style village community within our compound where children have the opportunity to receive their basic human rights: shelter, food, medical care, support, love, education, and the right to practice spiritual and religious beliefs. Our children's village is also empowering and educating locals from our community to give them food security and the chance to break the cycle of poverty.
What is the mission of Umoja Orphanage Kenya/Umoja Children's Village-Ukunda?
Our mission is provide a real alternative to child abandonment by building a self-sustainable children's village that will give orphaned and vulnerable children a chance at life. Our holistic care approach will provide a safe and healthy environment where children will be growing and learning in an aesthetic environment. At Umoja, play-based learning and psychological support will help to heal their traumatic beginning to life, and children will be given their childhoods back.
Are you affiliated with any religious or political entity?
We are not affiliated with any religious or political entity or institution. The Umoja team do not have any underlying religious beliefs that influence our mission or values. However, we do support any religious groups who wish to raise funds for our projects. We will also allow any re-homed children the choice to practice their religious or cultural beliefs while staying at Umoja Children's Village-Ukunda.
What will Umoja do for the surrounding community?
Umoja is not only helping the orphaned and vulnerable children of Kenya. We also are creating a better life and stronger communities in the villages surrounding where Umoja is situated. We believe strongly that we can empower the local community through change.  Our aim is to employ:
local widowed mothers as our house mothers and aunties
disabled people who have skills that can be passed onto our children and empower them, whether it be woodworking, sewing, crafts, and have vocational training in further stages within the Umoja project
locals in animal husbandry and agricultural skills, which will be then transferable into their wider community.
It is not our place to provide western solutions to other communities; however, by teaching skills they would not otherwise have had, slowly but surely they can help within their own community and culture. Through our Agricultural and Permacultural self-sustainability project, many locals will be given opportunities, education, and employment.
How effectively are funds used?
100% of sponsorship donations go directly to caring for the orphaned children.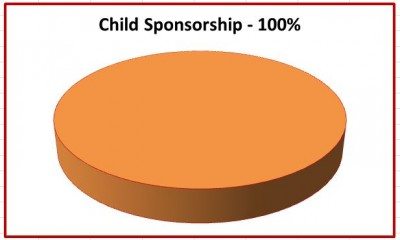 Once we have our infrastructure to rehome our future children built, approximately 94%, of other donations will be spent on the project. The remaining 6% will be used to promote interest to sustain the future of the project and pay for administration costs. We are volunteer-based, relying solely on people giving their time and donations. We are driven and determined to keep the commitments that we make to our in-country partners. As a result, we will analyse needs before we commit, raise funds, and closely measure results. No members of the Umoja team are paid for their work.  The only wages which are paid are to the Kenyans we employ.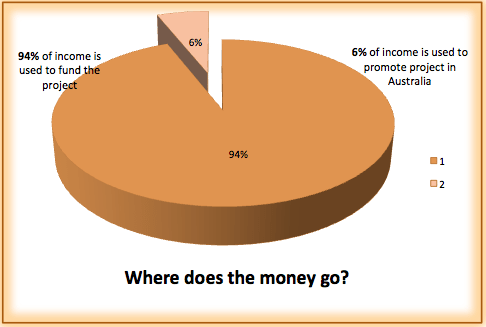 What are funds needed for and what for?
Presently we are focusing on three major Program Areas:
Completing our first children's home
Self-sustainability through agriculture
Community vehicle
$105,000 to build first home for our children (funded $65,000 as of end of April 2015)
Our first home (currently under construction and up to roofing stage) will consist of 5 bedrooms to home up to 12 children, house mother, and house aunty. The amount of children per home will depend on the children's ages on entering their new home.
Funds to continue our agricultural project and renewable energy project for self-sustainability
We need further funds for our borehole, water tower, water tanks, dome bio-digester, eco-friendly septic system, solar farm, a second greenhouse, sheds, chickens & seedlings, to allow us to continue rotational food production for sustainability. Sponsors to fund training of locals for Permaculture and Agricultural Training as part of our responsibility to our local community, so they can become trainers within our community.
Funds for a 2nd vehicle to be multi-purpose
To collect children in dire situations, orphaned children, community ambulance, community transport vehicle to help trained locals take their produce to market, help with collection of materials to the building site, and to raise further funds through safaris and tourist excursions with profits to be generated back into the Umoja Project.
"It takes a whole village to raise a child" (African Proverb) – the difference is YOU We are funded totally by donations and sponsorship. We receive no financial help either from the Australian Government or the Kenyan Government; however, we do continually seek funding from government and community grants. Australian Aid  partially funded our internal 2.5 acre 6 foot high children's home compound.  Umoja relies greatly on the financial support of the community. You are the families, service clubs, community groups, and individuals who offer to donate and to sponsor. Donations are imperative as they are the backbone of our project. We prefer to receive donations through our Rotary Overseas Aid Fund. Rotary Australia World Community Services (RAWCS) is able to approve tax-deductible receipts for any donations over $2 made to our overseas aid fund and sent by return email. You can donate via credit card, direct debit, or cheque. You may also make a donation using PayPal (both options allow you to set up a recurring weekly or monthly payment).   Please be advised we are charged a fee through PayPal. Go to our donations page to donate
Can I have my company make matching contributions?
Umoja love and welcome corporate donations. Talk to your company about matching donations and let us know how we can support completing the process with you.
Can I go on a guided tour with Umoja? 
Do you want to experience the REAL AFRICA?  Some people are a little apprehensive to travel alone, or to Africa at all, and don't want the big tour groups that visit generic places. Umoja offers guided 'voluntourism tours' to work on the project and personally tailored safaris, which include visits to places you wouldn't see on other tours. If you are  interested in one of our 'voluntour' trips, please contact cathy@umojahome.com An example of the tour would be 2 weeks in Kenya plus travel times.  At present we do not have volunteer accommodation onsite.
Our voluntours  include Cathy (Umoja's founder) as your guide:
Visiting the land, volunteering on land, building relationships with our local community, and witnessing the progress of Umoja Children's Village – Ukunda
A  safari visiting world renowned Kenyan Wildlife Parks
Visiting a Massai village and learning about their culture
Visiting our mentoring orphanage that is successfully operating to see just how Umoja will grow
Visiting and volunteering at a children's feeding station where up to 2000 children are fed each Sunday having walked up to 20km
Tour of Ukunda
Visiting Mombasa
You may have the opportunity to visit our surrounding villages
Optional tours on free day
How can I volunteer in Kenya?
We do offer volunteer opportunities and welcome you.
Volunteering can be done in many different ways. Even if you cannot donate money, you can help by
putting a link for our website on Facebook, your website, or as a tagline on the bottom of your e-mails
donations in kind
get your friends and colleagues to "like us" on Facebook
introduce us to key leaders and influential community members
raise funds for us in your town, state, or country
volunteer your time to help us organise functions
volunteer your skills to help us in administration, graphic arts, business planning, marketing, mentoring a particular skill you have
come and volunteer onsite in Kenya as we progress
Volunteers are a huge part of our project, in fact we can't operate without volunteers, and we can't wait to have you on board. However, because we are in the progressive stages of the project's infrastructure, there are currently limited opportunities on the ground in Kenya. Currently we take 2 voluntours to Kenya each year. (September and January). If you wish to visit Kenya at a separate time to volunteer, we can organise for you to visit/volunteer at our mentoring orphanage as well as visit our project.  Please contact us at info@umojahome.com  to see what opportunities are available and when. We keep your contact details on file, and when we are ready to advertise for our next tour, we will contact you.
Once our orphanage is open, volunteering opportunities will change due to our evolving needs.
How can I provide a sponsorship for a child?
Providing a sponsorship for homing and education our future children is one of our greatest needs. You can provide a student scholarship even if you live outside of Australia. Please go to our sponsorship page to sponsor a child.  You may even join with some friends or family together to lower the cost.  We have child sponsors who are doing this.  It keeps costs down, and  remember – "TOGETHER we achieve the extraordinary."  so why not sponsor a child together with some friends or family?
Where can I get more information?
 Any questions or enquiries can be directed to info@umojahome.com