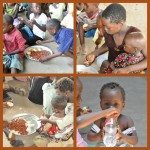 Our mission is to offer a real alternative to child abandonment and give orphaned and vulnerable children a second chance at life within a sustainable environment.
Every child deserves the basic needs for survival. The Umoja Children's Village – Ukunda will provide food, shelter, love, care, respect, education, and support for the vulnerable and orphaned children in Kenya.
We will create an environment that provides:
food and nutritional support
shelter where children can feel safe and secure
protection from all forms of abuse
acceptable health care services
psychosocial and emotional support
educational and vocational assistance and training
the right to fulfil their spiritual and religious beliefs
the opportunity to realise their physical, mental, and social potential
guidance so to realise their rights and responsibilities and understand shared values
unconditional love and a sense of belonging
and, hope for the future.