JUST SOME OF OUR AMAZING BUSINESS SPONSORS AND MENTORS
Rotary Australia World Community Service
Umoja Tours & Safaris Kenya
Bundaberg Brewed Drinks
The Good Life Orphanage
Visit their website
Mombasa, Kenya
Footprints Orphanage
Visit their website
Shimba Hills, Kenya
Matthew Barker
Electric Bananas
Castle Design
Visit their website
Lennox Head
Australia
Web Design, Graphic Design & Printing 
Discounts on all design work for charities.
Limos Hardware and Rural Supplies
Base Titanium Mining – Kenya
Scribbly Inc Bundaberg
Chernee Sutton
Visit their website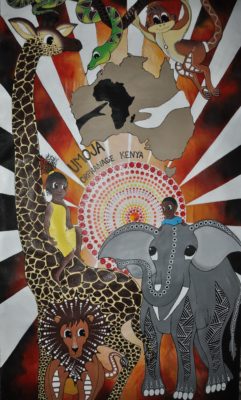 Artwork painted for Cathy Booth by Chern'ee Sutton as a gift to Umoja Orphanage Kenya in 2011. Chern'ee is a past student of Cathy's and she was fortunate to have taught her twice in primary school. In grade 2 and in grade 6. Chern'ee showed a great gift of art even in year 2 and was a natural talent. Umoja Orphanage Kenya is honoured to have a piece of Chern'ee's artwork to advertise our charity. Chernee is still only 15 years old. Chernee – you will always shine beautiful light from your heart.
Adam Barton Creative
Spotted Dog Bundaberg
Machan Design Studio
Bundaberg
Phone 07 41515802
Warm & Witty Words
Trulson's Mechanical
Colonial Rose Motel Townsville
Coral Cove Golf Club
The Doorkeeper
Penny Lane Gardens Restaurant
Learmonths Foodworks
Bundaberg Brewhouse
Bundaberg Riverfeast
Summer Breeze Fashion
Café 1928
71 Wharf
Coral Coast Pharmacies
Segue Bundy
Bundaberg NewsMail
ABC Radio Wide Bay
Hitz FM Bundaberg