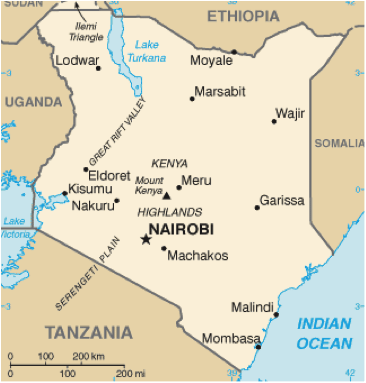 Click here for Kenya tourism website
Where in the world is Kenya?
GEOGRAPHY AND ENVIRONMENT
Kenya is located on the east coast of Africa and is bordered by Somalia, Ethiopia, Sudan, Uganda and Tanzania. The main cities are Nairobi (the capital), Mombasa (the main port), Nakuru, and Kisumu.
Kenya's natural environment is varied: coral reefs along the coastline, tropical rainforests, savannah, semi-desert, and mountains with alpine regions. Its plant life includes rainforest flora and alpine plants.
PEOPLE
Most of Kenya's 40 million people live in the cooler highlands or the coast, which are best suited to food production.
The Maasai tribe are among the most well-known of the 40 ethnic tribes in Kenya, mainly because of their height, distinctive customs and dress. Historically they were known for their fearsome reputations as warriors and cattle-rustlers.
Swahili is the official language and English is also widely used.
ECONOMY
Most Kenyans still depend on the land for a living. There have been cycles of drought and famine over the past decade. Thousands lost livelihoods, livestock died from starvation, and crops failed. Even in good times, farmers must keep a delicate balance between their herd size and the feed available.
Climate change threatens to worsen an already difficult situation. As the population grows, there is intense pressure on the land and other natural resources. The government hopes to increase crop yields by improving services to small farmers and by introducing new grain varieties.
Women's vital role as food producers, farmers, and child-minders is gradually being recognised.
LIVING CONDITIONS
Many Kenyans live in compounds of thatched mud huts or timber houses, surrounded by banana trees, plots of maize, and coffee trees. Others move with their cattle in search of pasture.
Many children still survive by scavenging, begging, or stealing. Few Kenyans have a piped water supply and proper sanitation. Even fewer have electricity. The poorest people cannot afford enough food, and malnutrition contributes to many child deaths.
EDUCATION
Free and compulsory primary education was introduced by the Kibaki government in 2003, but schools today are still struggling to cope with the influx of new students. There is considerable strain on resources, classrooms, and teachers.
Secondary education incurs high fees. As a result, not many can afford a secondary education, and fewer still go on to tertiary education. The challenge for Kenya is to feed, house, and employ a growing population while protecting the land on which it depends.
Adapted from World Vision's country profile of Kenya, November 2010. For more information download a PDF of info.
Where in the world is Ukunda and Diani Beach?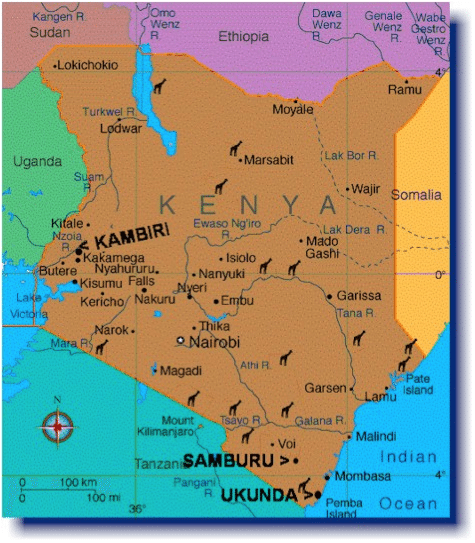 Until a few years ago Ukunda was just a village on the highway, from Mombasa to Dianai Beach on the south coast. Ukunda is now a scruffily burgeoning town and the main service centre for the resort hotels, strung out along the Likoni–Lungalunga Road. Only marginally touched by tourism, Ukunda has a life of its own. The sprawl is an increasingly deprived area, and along with Likoni, closer to Mombasa, was a centre of ethnic violence in the region prior to the 1997 elections, when some 100,000 "upcountry" people were forced to flee.
Diani Beach is a major beach resort on the Indian Ocean coast of Kenya (in eastern Africa). It is 30 kilometres south of Mombasa, in the Coast Province. It lies right next to Ukunda on the coast.
The general area is known for its coral reefs, black and white colobus monkeys, and for the closely located Shimba Hills National Reserve, a wildlife reserve which looks out over the Indian Ocean. Diani Beach has high-class restaurants, hotels, and two shopping centres. Diani Beach is also a popular kite-surfing location.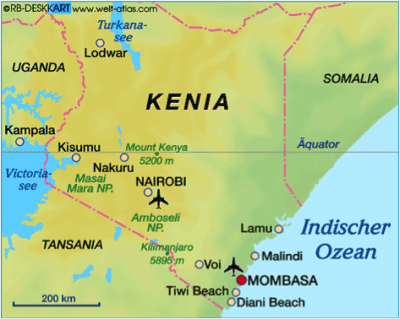 Who mostly visits Diani Beach?
Diani Beach is extremely popular with European and English tourists. Hundreds of thousands of tourists visit Kenya each year, most stopping at Nairobi, Diani Beach, or Mombasa to do their safaris and to relax for some of the European winter. Many Europeans do an incredible amount of humanitarian work in the area.
Where in the world is Umoja Orphanage Kenya?
The orphanage land is situated approximately 10 minutes from Ukunda and a further 5 or so minutes to Diani Beach. It is approximately 1 hour's drive from Mombasa. We are situated on the south coast of Kenya, approximately 1 hour north of the Tanzanian border. Close to the orphanage is a local school and a Kenyatta University Campus. You turn off the Kenya / Tanzania Road. The orphanage is in Kwale District Kenya.
Where in the world is Bundaberg, Queensland?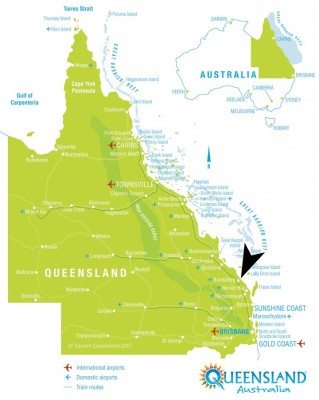 Founder of Umoja Orphanage Kenya, Cathy Booth, is from a small, coastal city in Australia. Australia is the world's largest island and is located in the southern hemisphere, providing the eastern state of Queensland with a warm, tropical climate.
Australians, known as 'Aussies', are a generous and friendly bunch who will always help out their mates. The land is vast and spacious with a similar climate to Kenya found in the Northern outback regions. The nation is known as 'the lucky country'; a term you will completely understand when you visit, as you won't want to leave.
For more information about Bundaberg, visit