KATIE MADE IT TO THE SUMMIT OF MT KILI!!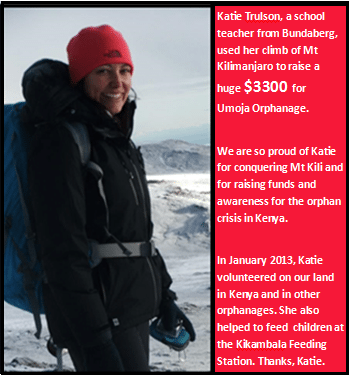 Sponsored Mt Kilimanjaro Climb
On December 22, Katie Trulson begins her challenge to climb the highest mountain in Africa, Mt Kilimanjaro. Katie's climb will raise funds in support of the Umoja Orphanage Project.
Meet Katie Trulson
Katie is a primary school teacher from Bundaberg with a spirit for adventure. She has taught in a number of locations across Queensland, including remote and regional areas. Katie is an advocate for underprivileged children and is currently studying at CQU to become a Guidance Officer. This role will allow her to pursue her passion for assisting socially disadvantaged students in the public education system. Raised in an active family, Katie continues to lead an active lifestyle enjoying water skiing, scuba diving, and motorbike riding. It is no wonder that Katie has taken to her mountaineering training with fervour.
Katie has always wanted to assist disadvantaged children from the third-world and is really looking forward to travelling abroad where she can have first-hand experience in Tanzania and Kenya. Her love for life and dedication towards helping those who are less fortunate make her an ideal ambassador for Umoja Orphanage Kenya. We are proud to have her on board and we wish her all the best with her Kilimanjaro Challenge.
Mt Kilimanjaro
Mt Kilimanjaro is one of the world's most accessible high summits and is located in Tanzania's Kilimanjaro National Park, East Africa. At 5896m (19 340 ft) Mt Kilimanjaro is Africa's highest peak and the world's highest free standing equatorial mountain.
The popularity of climbing Mt Kilimanjaro is due to the accessibility of the snow-capped peak without specialist climbing equipment or technical climbing experience. The climb is still a challenge and should not be underestimated. Climbers require a high level of physical fitness and stamina to endure the seven day trek.

Katie's Climb
While Katie is undertaking a huge personal challenge, her climb is also a public mission; she hopes to learn more about herself and to raise money for Umoja Orphanage Kenya. She is one of the many people who undertake sponsored climbs of Mt Kili every year to raise awareness of charitable organisations. Katie is passionate about helping disadvantaged children in Africa and hopes to raise awareness of the huge needs of orphaned and vulnerable children that exist in the third-world. Unlike Australia, the underprivileged do not receive the same level of support from the government. By supporting Katie's climb you are assisting Umoja to help break the cycle of poverty in Kenya.
When?
Katie, along with Emily and Matt Kernke, depart Australia on the 20th of December. Their ascent will begin on the 22nd, and they hope to reach the summit on the 28th (a full moon). They will return on the 29th.
Where?
Katie's group are doing the seven-night Shira trek. After arriving in Tanzania, they will travel to Arusha National Park where they will begin their climb.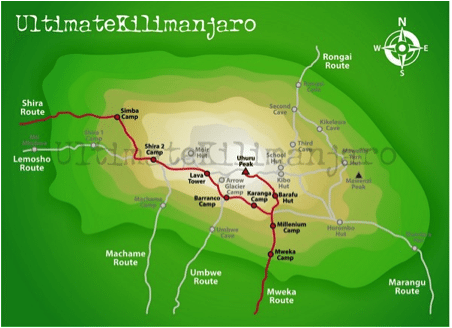 How?
Katie and her friends are completing the climb with the assistance of Africa Travel Resource. Guides will lead the way and set the pace while the porters will carry the camping equipment, often surging ahead to set up the camp. A typical day on the mountain will involve six hours of slow walking.
Preparation
With the help of their trainer Wayne, Katie and her friends are undertaking a tough training schedule to improve their fitness and stamina, including endurance training, gym sessions, muscle-target training, running, and walking. It is essential that you train for at least two months prior to climbing Mt Kilimanjaro, wearing your boots and backpack in order to thoroughly condition your legs to uphill and downhill walking.
The three have begun hiking training using the Hummock in Bundaberg. They recently climbed Mt Woowonga and Mt Walsh (near Maryborough, QLD) in the same day as an initiation to mountaineering—both hikes requiring a high level of fitness.
Donate
Supporting Katie's Kilimanjaro climb will support Umoja Orphanage Kenya. Your donations will help to give orphaned and vulnerable children a second chance at life.
To make a donation, click here. Katie and the Umoja team thank you for your support.
Check out Katie's Facebook Page here.