WHY SPONSOR A CHILD?
If you have ever considered sponsoring a child, you may have wondered about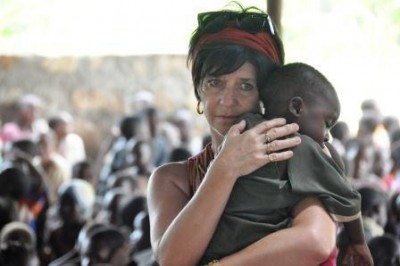 the benefits to the child and how your money is spent. Sponsoring a child can be a very rewarding experience and can provide services and opportunities to children who are living in poverty and have been abandoned by their parents and extended family. This page will tell you all about the Umoja Child Sponsorship Program, explain how the funds are used and discuss the benefits to you and the sponsor child.
UMOJA CHILD SPONSORSHIP
Umoja's child sponsorship is a little different to others you may know of or have donated to in the past.
While many organisations allow you to sponsor a child by donating each month, your contribution goes towards community-based development activities such as improving access to water, sanitation and nutrition for the whole community. These organisations have partnerships with local community groups, faith-based groups and the government, which helps to alleviate the sponsorship contribution for the individual. This type of sponsorship can last for up to 10 years, after which the organisation moves onto a different area.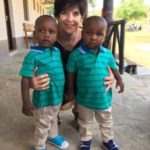 The Umoja Child Sponsorship Program provides one-on-one long-term care in a children's village dedicated to providing an alternative to child abandonment.
Orphaned and vulnerable children are taken into care by Umoja and are cared for until they reach the age of 18. Umoja does not receive any funding or assistance from the government or other community groups to cover the cost of caring for orphaned children. We offer our children a holistic care approach that gives them access to clean water, nutrition, healthcare and education. They are raised in a family-style home, with a maximum of 12 children, where they are free to practice their religious and spiritual beliefs and continue the culture of their community. As they grow, they will be educated and receive training and skills in order to be independent adults when they leave our care. Our children's village will inevitably help children and communities to break the cycle of poverty.
HOW DOES UMOJA CHILD SPONSORSHIP WORK?
We ask our sponsors to make a minimum two year sponsorship commitment. Your financial commitment is $1200 per year for two years, which can be paid annually or monthly. Rotary Australia Overseas Aid Fund (managed by RAWCS) has deductible gift recipient registration, so they accept tax deductible donations on our behalf. RAWCS deducts a 3% service fee for all donations.
Your contribution allows an orphaned child to receive:
Family-style accommodation
Complete care from House Aunties
Fresh food, clean water and clothing
Books, toys, sports and musical equipment
Medical check-ups and healthcare services
Daily social worker access
School fees and attendance (if of school age)
Excursions to regularly integrate with their culture and surrounding village
A Kenyan birth certificate
Custody costs incurred for Umoja Children's Village to be the custodians of the child for 3 years at a time (as per Kenyan law)
A personal memory box to keep a record of their childhood
You will receive photos and monthly updates on your sponsor child's progress. You will have the opportunity to communicate with your child through e-mail if old enough, and the chance to meet your sponsor child by participating in the Umoja Volunteer Program.
CHILD SPONSORSHIP PAYMENT
Umoja Child Sponsorship fees are tax deductible.
You have two sponsorship payment options:
Monthly payments – 24 x $100
Yearly payments – $1200
You may pay by credit card, direct credit or cheque. If you have filled out your sponsorship pledge and received a sponsorship request letter from Umoja, then it is time to make your payment. Please pay your sponsorship fees via the RAWCS online facility.

FREQUENTLY ASKED QUESTIONS ABOUT CHILD SPONSORSHIP
What can a sponsor expect to receive?
A Welcome Pack including a folder with your sponsored child's photo and personal details and info on the community where the child comes from
A Monthly Progress Report discussing the health, education and personal achievements of your sponsor child
Regular editions of the Umoja Newsletter
The opportunity to develop a connection with your sponsor child through e-mail communication if the child is old enough
How are children chosen to enter Umoja Children's Village?
Umoja works closely with child protection services in Kenya to select children who are the most vulnerable. Orphaned children without parents or extended family to care for them are the first priority. An extensive 'social enquiry' takes place to ensure the children are in dire need and to find out as much information as we possibly can about the child. The choosing of the children to enter the home is based on a 'most in need/most vulnerable.' The choosing of the children is completed with the children's department, our social worker and manager agreeing on the child/children in crisis after investigations. If children are abandoned then they become the most critical to rehome.
Can I choose which child I would like to sponsor?
The Umoja Children's Village will house 10-12 children in each home. Due to the limited number of children available for sponsorship, each sponsor will be assigned an orphaned child.
Am I the only sponsor of my child?
No. The cost of child sponsorship is shared due to unforseen circumstances where a sponsor may not be able to continue sponsoring a child and end sponsoring abruptly. Illness can come on quickly in Kenya and the high cost of medical treatment can esculate quickly, as can food and clothing prices.
Is child sponsorship tax deductible?
Yes, all donations are tax deductible. RAWCS will issue each sponsor with an annual tax receipt.
What if I need to cancel my child sponsorship?
We encourage our sponsors to make a two-year financial commitment to their sponsored child. We understand that your financial circumstances may change over time, so you may cancel your sponsorship if you need to do so. Please advise us if these needs to happen as early as possible.
Can I visit my sponsor child?
Yes. It is very rewarding to see first hand how your sponsorship is making a difference. Umoja offers a RAWCS Volunteer Program twice a year to Kenya at your own cost. Umoja is committed to protecting the safety and wellbeing of our orphaned children, so you will be required to undergo a Police Check before your visit can be confirmed, as in accordance with Rotary Australia Community Service policies and procedures.