Are you a creative writer?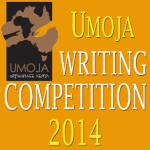 Are you passionate about African causes such as hunger and poverty?
Have you always wanted to share your African travel tips?
Then we have a competition that would be perfect for you.
A future Umoja volunteer, Donna Munroe, has created the Umoja Writing Competition to help sponsor her trip to Kenya and to raise funds for our first children's home. She is currently seeking entries of 1000 words on the theme of 'Africa'. You can choose to write a short story, an essay or a travel article. There are cash prizes for first and second and your story will be published on our website. So, if you have a way with words, then we suggest you get writing. The competition is now open and entries close on April 30.
We would like to thank Donna for joining our supporter squad with her creative way to raise money for our orphanage project. We are always thrilled to hear of new fundraising ideas from all of you out there–like garage sales, themed dinners, music events and movie nights.
For more information on the Umoja Writing Competition, please visit http://umojawritingcomp.wordpress.com/ for all the details.