Saturday 20th July was a fantastic night out to celebrate our annual gala charity dinner. This year's theme was Casino Royale and we went all out to create a night to remember. We would like to thank everyone who came along to make it a full house and for giving so generously to our project. We are very proud of what we achieved, but of course there are many people who worked behind the scenes and helped to make the night a great success.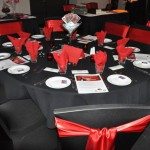 Firstly, we must thank our major sponsors Shadow Insurance Brokers and Encore Dance Studio.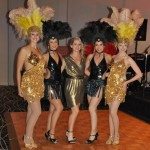 Dan Thomas, manager of Shadow IB, made an excellent MC and we thank him for his professionalism and sense of humour. Penny Curd, principal of Encore, was responsible for the wow factor that you all witnessed on the night—from the impressive decorations through to the talented showgirls and those delicious choc-dipped strawberries that disappeared before we got a chance to sample one. Her creativity and attention to detail are second to none.
Well done to anyone who experienced a lucky streak on our casino gaming tables. The night seemed to slip away before the Umoja team had any chance of hitting the tables. Thank you to our fun-loving croupiers Matt, Karen and Brett for hosting the games. If you didn't make the high rollers, perhaps you picked up a prize in our continuous raffle or lucky door prizes. Thank you to all of the local businesses who donated to our prizes draws. We really appreciate your generosity considering the tough year many businesses have had after the January floods.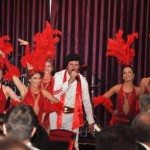 The entertainment this year was provided by the Bucketseats and Electric Banana. Matty Barker's acoustic talents provided a lovely backdrop to dinner. The Bananas entertained with rock classics that allowed our guests to dance the night away until midnight. A special mention must go to superstar Matthew Farthing who also opened the evening with an Elvis number (backed up by the Encore showgirls).                              What a way to start the night!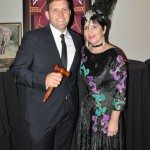 Our charity auction was a huge success thanks to our auctioneer extraordinaires Jonno Olsen and Robert Ephraims. The most wanted items on the night were the QLD State of Origin signed jersey and the 7 night Gold Coast Getaway donated by Wayne and Pam Limbrick from Shepparton Rotary in Victoria. Special thanks to the Limbricks who travelled all the way to Bundaberg to attend our function. Thank you to everyone who donated items to our auction, including artists Jenny Dawes and Cyril Wriede and Zupps for donating the framing costs of our jerseys.
We would also like to thank Across the Waves, The Door Keeper, The Sticker Company, Adam Barton, Picture Perfect Decorators, Bundaberg Sunrise Rotary, Gladstone Rotary and Peter Ahern.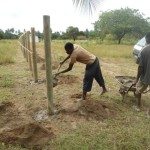 Lastly, a huge thank you the hardworking Umoja team who continue to give their time selflessly for the project. Together we are achieving the extraordinary.
The money raised from this year's gala dinner will go towards the fencing project and first children's home. 15 volunteers are heading to Kenya in September to help the 9 locals build the fence.
Thanks again to everyone for making the effort to dress to our theme and supporting our orphanage project—photos from the evening can be viewed on our Facebook page www.facebook.com/umojakenya . We hope everyone had a great night at our gala dinner and we look forward to planning the next one.