If you wanted an excuse to bring out the fancy plates or try out some new recipes then this is it. Be a part of a Guinness World Record for the World's Biggest Dinner Party – Multiple Locations.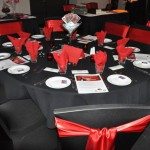 Umoja is asking you to hold a dinner party on Saturday October 26th, 2013, wherever you are in the world. Invite as many guests as you like and register your dinner party by e-mailing wayne@limoshardware.com. Then collect $20 from each guest and deposit the money into our bank account. Money raised from this event will support our Raise the Roof Appeal – building our first children's home for up to 10 orphaned and vulnerable children.
PARTY IDEAS
There are many different ways that you can participate, including:
Small, intimate lunch
High tea with your girlfriends
Backyard BBQ with the neighbours
Formal three-course dinner party
Family pot luck dinner (everyone brings a dish)
Interactive dinner party (guests make their own pizzas, burgers, tacos etc.)
Progressive dinner (each course at a different house)
Themed banquet: Mexican, Chinese, Indian, Thai…
Dinner party based on your favourite movie or book
Murder mystery dinner party
Large party with canapés
Catered party or order takeaway
The possibilities are endless. Just as long as you hold your party on the correct day and register your party and number of guests with Umoja then you can be part of the record attempt.
PARTY TIPS
Plan ahead. Write out your recipes and a shopping list. You don't want to get half way through a recipe and realise you don't have all the ingredients.
Don't take on too much. If you have a large number of guests don't try and do all the preparation and cooking yourself—it's ok to ask for help. If you want to do all the work then a smaller gathering is suggested.
Don't hide out in the kitchen all night. Remember that people are coming over to enjoy your company, so try and have as much prepared as possible beforehand.
Set the mood. Remember that dinner parties are about more than food, so choose some appropriate music and decorate accordingly.
Have fun. Take the time to have a drink, relax and enjoy the company of your family and friends.
Please consider participating in this fun event. You can help Kenyan orphans just by sharing a meal with family and friends.
Please visit http://umojahome.com/kenya/worlds-biggest-dinner-party/ for more information on The World's Biggest Dinner Party.