Christmas means a lot of different things to different people. But tinsel and rum balls aside, I think you will find that the true spirit of Christmas is giving.
A Christmas tradition that I share with my mother is going and purchasing gifts to put under the Kmart giving tree. We don't give presents to each other in my family as it can be easy to get caught up in the consumerism of the holiday, but I know that many people do like to exchange gifts with family and friends.
Unfortunately, it can be difficult to avoid the stress and pressures that come with Christmas shopping during one of the busiest retail periods of the year,  so, we have come up with a few options to make giving at Christmas time a little easier and a little more meaningful.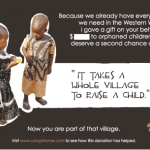 If you are struggling to find a gift for someone that has everything or you can't think of something to buy your neighbour or child's school teacher, than consider purchasing an item from our online store http://umojahome.com/kenya/products-page/. Purchasing an item from the Umoja Store will help to give orphaned and vulnerable children a second chance at life, as profits go directly towards building our first children's home.
However you choose to celebrate this year, please take the time this Christmas to appreciate how truly blessed and lucky we are to live in Australia. From the entire Umoja team we wish you and your loved ones an enjoyable and safe festive season.