AND THE WINNER IS….
FIRST PRIZE – Martin Bodle from Adelaide
SECOND PRIZE – Stan Jessup from Tasmania
Thank you so much for your support!
WE ARE REALLY OVER THE MOON WITH THIS GREAT GESTURE FROM

NEW AGE CARAVANS and SHEPPARTON CENTRAL ROTARY CLUB

THEY HAVE SUPPLIED A BRAND NEW CARAVAN FOR US TO RAFFLE FOR UMOJA
This Manta Ray 19 foot caravan is valued at $65,000!
Wouldn't you like this parked at your home ready to travel?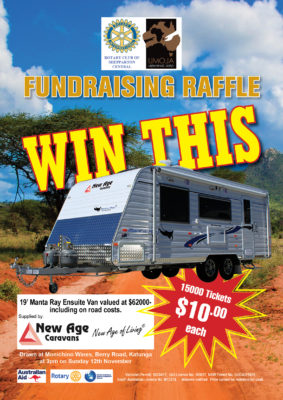 For just $10 you could be the lucky owner of this fantastic 19′ New Age Manta Ray caravan valued at $65,000.
Tickets are now available to be purchased online!
Anyone/any club who can help us sell the tickets please let us know so we can get them out as soon as we can.
Books of 50 will be available and remember many hands make light work! We hope to sell at least 10,000 tickets so please get on board and be part of the big picture of Umoja.
If any of our followers are looking for a new caravan, make sure you have a look at New Age. The organiser of this event Wayne Limbrick has one and it is fantastic.
Tickets are available on line and through Facebook
The caravan will be drawn in Shepparton at a function to be held on the 12th November 2017.